🆓 FREE
Get info on gaining skills, buying and owning a boat, working on your boat, buying stuff for your boat and moving aboard
Regular price
Sale price
$0.00 USD
Unit price
per
Sale
SOLD OUT
✔ Get access immediately upon check out
✔ All online, no shipping
✔ FREE - no payment required at check out
Our Guarantee
At The Boat Galley, we have only one mission: to make boat life better.
Everyone on The Boat Galley team is a liveaboard cruiser and we understand the challenges that come with life on a boat. When our team encounters frustration, we come up with practical and innovative solutions.
Try our products and see. If they don't make your boat life better, use our 30-day FREE no-hassle return guarantee.
✔ Lifetime access including all updates
✔ No scheduled times: go through the material when it's convenient for you
What's Included
Trying to figure out how to live on a boat? Beyond "learn to sail" there's a lot that you have to learn, plan for and make happen.
Getting from the "yes, we want to go cruising" stage to actually casting off the dock lines encompasses a lot of things:
Gaining Skills

Buying a Boat

Learning Your Boat

Buying Boat Gear

Learning to Cook on Your Boat

Moving Aboard
This mini-course covers how to do it all, with lots of free resources along with affordable recommended courses and coaching for more in-depth needs.
You'll also get a subscription to The Boat Galley Newsletter, a weekly email filled with tips and tricks to make living on a boat and cruising both easier and more enjoyable. Don't like it? You can unsubscribe at any time.
And no, we aren't going to sell your email address or send you spam, because that's not who we are.
You'll get login details onscreen immediately after purchase as well as by email a few minutes later, and you can begin the course immediately.

You'll have lifetime access to everything including any updates.
Everything is online; there is no shipping.
View full details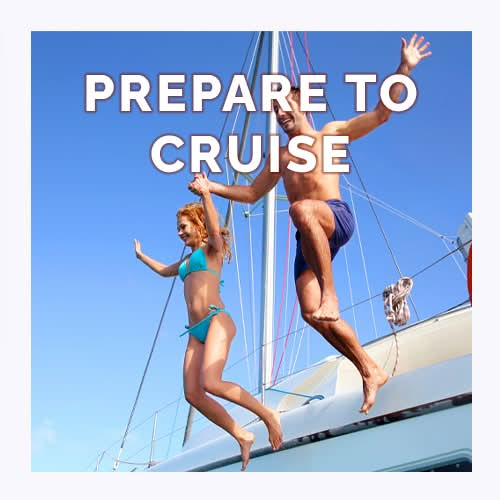 Great Resource
I dove into this resource with great enthusiasm and was not disappointed. It was filled with great tips and information for us as we prepare to embark on our full-time cruising journey. In fact the entire website has loads of information, but this course narrowed it down to the information I needed right now. Highly recommend!
excellent. I've read alot of blogs, and articles about preparing to go cruising. This blog took a great approach. Gave a realistic and practical approach for the beginning cruiser. I loved it!
Great info about all things cruising
This is one of the best resources for 'real world' cruising. My go to source for food, cooking, voyage prep, cooling, etc. love it. Buy the book!