🆓 FREE
Real help for the overwhelming frustration and stress that the first year of cruising can bring
Regular price
Sale price
$0.00 USD
Unit price
per
Sale
SOLD OUT
✔ Get access immediately upon check out
✔ All online, no shipping
✔ FREE - no payment required at check out
Our Guarantee
At The Boat Galley, we have only one mission: to make boat life better.
Everyone on The Boat Galley team is a liveaboard cruiser and we understand the challenges that come with life on a boat. When our team encounters frustration, we come up with practical and innovative solutions.
Try our products and see. If they don't make your boat life better, use our 30-day FREE no-hassle return guarantee.
✔ Lifetime access including all updates
✔ No scheduled times: go through the material when it's convenient for you
What's Included
Encouragement
Nine articles from The Boat Galley with specific techniques to help with the transition from land life to boat life.
Documents for Boat Owners
Checklists and editable templates to help with otherwise stressful situations.
Buying Boat Gear
It's hard to know what will work on the boat; reviews just don't talk about how things function or hold up in our world. Take a little of the guesswork out of buying boat gear by looking at products that have worked well for us.
Cooking on a Boat
Cooking on a boat just isn't quite the same as cooking ashore. And if you didn't really like to cook ashore, having to cook more often on the boat can also be a big change.
Getting More Help
Truly affordable courses and mentoring to flatten out that learning curve.
You'll also get a subscription to The Boat Galley Newsletter, a weekly email filled with tips and tricks to make living on a boat and cruising both easier and more enjoyable. Don't like it? You can unsubscribe at any time.
And no, we aren't going to sell your email address or send you spam, because that's not who we are.
You'll get login details onscreen immediately after purchase as well as by email a few minutes later, and you can begin the course immediately.

You'll have lifetime access to everything including any updates.
Everything is online; there is no shipping.
View full details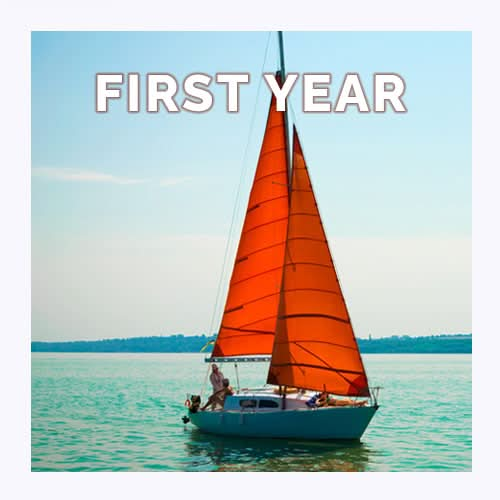 I'm really glad I read this before we got on board!
Your key messages to take it slow and it will get better were the best advice we could get. So far, we've been able to roll with the punches - and there have been some doozies! I'm hooked on the Boat Galley now!
LEARNING CURVE
Alot of common sense, good confidence builder, great advice from experienced sailors. Can't wait to get on the water!
Definitely informative, covers a lot of the blanks!