🆓 FREE
How to have great meals despite limited food storage, refrigeration, water, power, cooking space, and gear
Regular price
Sale price
$0.00 USD
Unit price
per
Sale
SOLD OUT
✔ Get access immediately upon check out
✔ All online, no shipping
✔ FREE - no payment required at check out
Our Guarantee
At The Boat Galley, we have only one mission: to make boat life better.
Everyone on The Boat Galley team is a liveaboard cruiser and we understand the challenges that come with life on a boat. When our team encounters frustration, we come up with practical and innovative solutions.
Try our products and see. If they don't make your boat life better, use our 30-day FREE no-hassle return guarantee.
Benefits

Any adventure is better with great meals. But the challenge is how to serve them up when you have limited cookware, water, electricity, storage space, and even counter space. Where do you even start?
Right here. Adventures and great food aren't mutually exclusive. Seriously, Carolyn has been preparing good meals in less than ideal conditions most of her life, first with extended tent camping trips, and now for over 15 years on a boat.
In this free course, she'll teach you how to have delicious everyday meals no matter what you're doing.

✔ Lifetime access including all updates
✔ No scheduled times: go through the material when it's convenient for you
Introduction to Cooking for Adventures
We've chosen six articles from The Boat Galley to answer the most common questions about how to have great meals no matter where you are.
Helpful Downloads
Four of our most-requested downloads; three to help with provisioning and one to help with cooking things to the perfect doneness.
Inventory & Provisioning Spreadsheet -- know just how much of what to buy for your trip
What's on the Boat? An easy way to keep track of what you need to take for your next trip on the boat.
Instant-Read Thermometer Temperatures -- however you're cooking, know that foods are cooked thoroughly (no food poisoning) but aren't overdone!
Spice Names in Foreign Languages (3 PDFs) -- the stories of buying and using the wrong spices are legion when you're in a foreign country. KNOW the names with these handy guides.
Recipes
Over 100 free adventure-friendly recipes. Real food, galley-tested.
Favorite Gear
Having the right gear -- pots, pans, utensils and more -- makes all the difference, but it's tough to find reviews that touch on the factors we find important. Check out our recommended galley gear.
You'll also get a subscription to The Boat Galley Newsletter, a weekly email filled with tips and tricks to make living on a boat and cruising both easier and more enjoyable. Don't like it? You can unsubscribe at any time.
And no, we aren't going to sell your email address or send you spam, because that's not who we are.
You'll get login details onscreen immediately after purchase as well as by email a few minutes later.

Take this course whenever you want, as fast or slow as you want, in whatever order you want, and refer back to materials as often as you want. You'll have lifetime access to all, including all updates.
Everything is online; there is no shipping.
Carolyn Shearlock is the founder of The Boat Galley and an instructor at Cruisers University at the Annapolis Boat Shows. In addition to her articles and podcasts for The Boat Galley, she frequently writes for various boating and cruising magazines. She is the author of The Boat Galley Cookbook.
Carolyn and her husband Dave have lived aboard two different boats for a total of 14 years. They've cruised over 14,000 miles in the Sea of Cortez, Pacific Mexico and Central America, and more recently Florida and the Bahamas.

View full details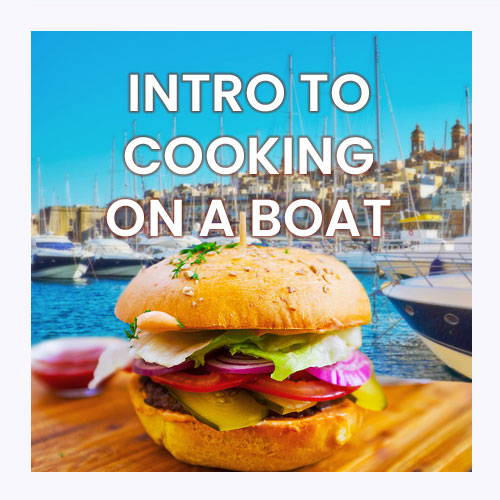 Cooking for Adventures
Really enjoyed all the information and templates
Very helpful thank you Carolyn. It's particularly helpful to know what fresh food will store well without refrigeration and to be reminded how many things come in boxes or cans for longer life!
What a brilliant easy to follow and very helpful course. Carolyn has written this in a logical easy to follow way. Packed with useful and helpful tips. For me it was the Keto recipes that have really been the most helpful.