🆓 FREE
Know just how much to buy of what -- all arranged by grocery store aisle -- with this handy form. Includes detailed instructions to edit for your favorite foods
Regular price
Sale price
$0.00 USD
Unit price
per
Sale
SOLD OUT
✔ Download immediately upon check out
✔ All online, no shipping
✔ FREE - no payment required at check out
Our Guarantee
At The Boat Galley, we have only one mission: to make boat life better.
Everyone on The Boat Galley team is a liveaboard cruiser and we understand the challenges that come with life on a boat. When our team encounters frustration, we come up with practical and innovative solutions.
Try our products and see. If they don't make your boat life better, use our 30-day FREE no-hassle return guarantee.
What You Get
Want a magic wand to tell you just what to buy for your upcoming cruise?
This spreadsheet is the next best thing when you're planning longer trips where you don't have a meal plan but are simply "stocking the pantry."
Editable spreadsheet
Detailed instructions
No spreadsheet skills required. Can use it with any spreadsheet program that can read an Excel file.

Enter how much of each item you use per week, the number of weeks you'll be gone and how many you already have on hand. The spreadsheet will calculate how many you need to buy and even sort it by aisle in the grocery store.
You'll also get a subscription to The Boat Galley Newsletter, a weekly email filled with tips and tricks to make living on a boat and cruising both easier and more enjoyable. Don't like it? You can unsubscribe at any time.
And no, we aren't going to sell your email address or send you spam, because that's not who we are.
You'll get login details onscreen immediately after purchase as well as by email a few minutes later, and you can download the spreadsheet and instructions immediately.
You'll have lifetime access to everything including any updates.
Everything is online; there is no shipping.
View full details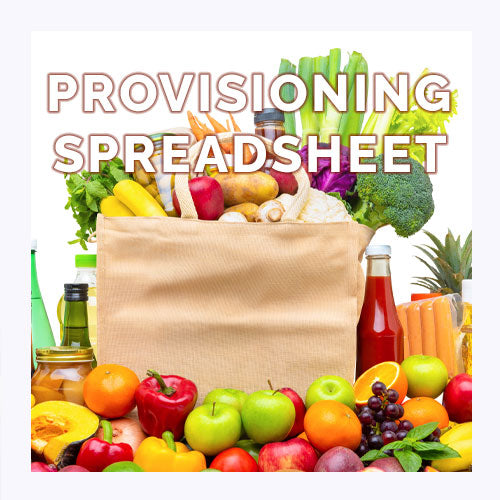 Not quite ready for this yet
It was great to see the spread sheet but we've just acquired the boat so not quite there yet to find this applicable. Am gobbling up the articles and all the other great tips so keep them coming.
An amazing resource
I am currently in the planning stages of getting a boat. The Provisioning Spreadsheet is a wonderful tool to keep track of what is on board and what you need to replace. It also keeps track of where your provisions are located. Dealing with a boat is a lot different than a house and things can get lost very easily! I highly recommend this tool!