🆓 FREE
10-point tip sheet and editable hurricane prep checklists
Regular price
Sale price
$0.00 USD
Unit price
per
Sale
SOLD OUT
✔ Download immediately upon check out
✔ All online, no shipping
✔ FREE - no payment required at check out
Our Guarantee
At The Boat Galley, we have only one mission: to make boat life better.
Everyone on The Boat Galley team is a liveaboard cruiser and we understand the challenges that come with life on a boat. When our team encounters frustration, we come up with practical and innovative solutions.
Try our products and see. If they don't make your boat life better, use our 30-day FREE no-hassle return guarantee.
What You Get
Make prepping for a hurricane easier and a little less stressful with:
10 Tips to Prepare for a Hurricane
Pre-Hurricane Things to Get and Check
Editable Hurricane Checklist - At Anchor and Aboard
Editable Hurricane Checklist - On a Mooring and Evacuating
Editable Hurricane Evacuation Packing List
NOTE: We highly recommend our online course, Comprehensive Hurricane Prep for Boaters, for a far more in-depth look at readying your boat for a possible hurricane. That course includes all of the checklists and walks you through editing them for your own circumstances, as well as detailing every other step of preparing for a hurricane.
Start by reading 10 Tips to Prepare for a Hurricane and learn the most important things you'll need to do if a storm threatens.
Next, go through the items on the list of Pre-Hurricane Things to Get and Check to be sure that you're ready. 
Then use our sample checklists to create your own ultimate checklist of everything you need to do in the event of a hurricane.
You'll also get a subscription to The Boat Galley Newsletter, a weekly email filled with tips and tricks to make living on a boat and cruising both easier and more enjoyable. Don't like it? You can unsubscribe at any time.
And no, we aren't going to sell your email address or send you spam, because that's not who we are.
You'll get a download link onscreen immediately after purchase as well as by email a few minutes later. You can download your documents immediately.

Everything is online; there is no shipping.
View full details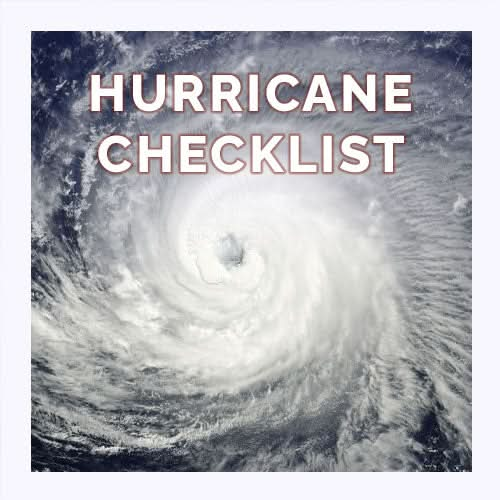 Awesome checklists! We are newbies in the 'boating-scene", so we are in the orientation and preparation phase, before buying our first boat. May sound a bit strange, but we want to have a good angle on all kinds of future situations.
Loved the sample hurricane list. Used it to create my own. One thing that was not covered that everyone may want to consider is shutting thru hulls and fuel tank
Great starting point to get you thinking about your Personal hurricane plan.