A detailed in-depth guide to hurricane preparation for boaters; includes a quick start version to be used if purchasing when a storm is approaching
Regular price
$49.00 USD
Sale price
$49.00 USD
Unit price
per
Sale
SOLD OUT
Our Guarantee
At The Boat Galley, we have only one mission: to make boat life better.
Everyone on The Boat Galley team is a liveaboard cruiser and we understand the challenges that come with life on a boat. When our team encounters frustration, we come up with practical and innovative solutions.
Try our products and see. If they don't make your boat life better, use our 30-day FREE no-hassle return guarantee.
BUNDLE AND SAVE: This course is part of our All-Access Pass, where you get all 8 of our courses (plus some bonuses) for one low price.
Features

 In-depth online course detailing how to:
Choose the best location for your boat
Gather the proper supplies ahead of time -- no last-minute scramble
Watch the weather and understand the fine points of the forecasts
Think about hurricane season and understand the risk
Prepare a hurricane plan
Develop your hurricane checklists
Know when it's time to stop watching forecasts and start prepping
Execute your plan, with step-by-step details
Prioritize your actions if time is limited
Consider cruising during hurricane season
Stay safe both in preparing your boat and in the aftermath
Comprehensive Hurricane Prep is a much more extensive version of the hurricane prep course that Carolyn teaches at Cruiser's University at the Annapolis Boat Shows.
✔ Latest Update: April 2023
✔ Lifetime access including all updates
✔ No scheduled times: go through the material when it's convenient for you
Hurricane Prep's eight in-depth course modules are primarily written, with 88 illustrative photos and charts, two videos, and five downloads.
Modules include:
Principles of Hurricane Prep -- what you need to think about and how to watch the weather
Before Hurricane Season -- developing your hurricane plan, deciding where you'll put your boat, creating your checklists, evaluating your boat's readiness to withstand a hurricane, gathering your supplies, and planning how to monitor weather
Preparing Your Boat for a Hurricane -- what to do when a storm threatens, including decreasing wind resistance, securing your boat, hurricane anchoring and other things to do
Stay on Your Boat or Evacuate? -- how to decide what you should do, and what to expect if you stay on your boat
Aftermath -- recovering and staying safe
Cruising in Hurricane Season -- how to enjoy your boat during hurricane season without undue risk
If a Storm is Bearing Down on You -- if you start this course with a storm forecast for your area, START HERE and learn what to do right now.
Case Study: Why Did Barefoot Gal Survive Category 4 Irma? - How did she survive when 75% of the boats nearby didn't? A real-life example, tying everything together.

Certificate of Completion to print and attach to the hurricane plan for your insurance company.
Private Facebook Group: You'll also get access to a private Facebook group where you can ask questions of me and other course participants, and where you can share your successes.
You'll also get a subscription to The Boat Galley Newsletter, a weekly email filled with tips and tricks to make living on a boat and cruising both easier and more enjoyable. Don't like it? You can unsubscribe at any time.
And no, we aren't going to sell your email address or send you spam, because that's not who we are.
You'll get login details onscreen immediately after purchase as well as by email a few minutes later.

Take this course whenever you want, as fast or slow as you want, in whatever order you want, and refer back to materials as often as you want. You'll have lifetime access to all, including all updates.
Everything is online; there is no shipping.
Carolyn Shearlock is the founder of The Boat Galley and an instructor at Cruisers University at the Annapolis Boat Shows. In addition to her articles and podcasts for The Boat Galley, she frequently writes for various boating and cruising magazines. 
Carolyn and her husband Dave have lived aboard two different boats for a total of 14 years. They've cruised over 14,000 miles in the Sea of Cortez, Pacific Mexico and Central America, and more recently Florida and the Bahamas.

Their boats have taken two direct hits by hurricanes and been within 50 miles of the eye over 10 other times, all with less than $100 damage.
View full details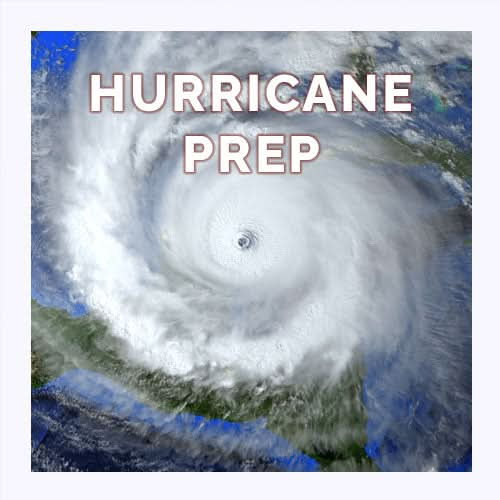 Preparing for a Hurricane
I purchased the hurricane prep course right before Ian. Learned some things but didn't get through it before Ian hit. Should have bought it before! But we were in ground zero and our boat, luckily, had NO damage!!! Thank you Boat Galley for the help!
My husband wants to cruise part of this hurricane season; not my preference. Thanks to this course, I'm less panicked. Wish I'd taken this earlier! After more time to digest all the great info I'll be even more prepared next season.
I thoroughly enjoyed the Hurricane Prep Course. The material presented was very detailed, and easy to navigate. This course has opened my eyes to the many things that could go wrong in a hurricane event if my boat is not properly prepared.