How to best use your VHF from routine calls to advanced features such as DSC, AIS, and weather
Regular price
$29.00 USD
Sale price
$29.00 USD
Unit price
per
Sale
SOLD OUT
✔ Get access immediately upon check out
✔ All online, no shipping
Our Guarantee
At The Boat Galley, we have only one mission: to make boat life better.
Everyone on The Boat Galley team is a liveaboard cruiser and we understand the challenges that come with life on a boat. When our team encounters frustration, we come up with practical and innovative solutions.
Try our products and see. If they don't make your boat life better, use our 30-day FREE no-hassle return guarantee.
BUNDLE AND SAVE: This course is part of our All-Access Pass, where you get all 8 of our courses (plus some bonuses) for one low price.


Benefits
You'll be amazed at all your radio can do!
This course will walk you through the basic and advanced features of your VHF and explain not just how to use them, but why you'd want to. You'll learn how to:
Call boats you do and do not know, request bridge and lock openings, and arrange passing situations
Choose between high and low power and how to switch
Be clearly understood over the radio
Choose a working channel
Make effective emergency calls
Set a radio up to make automated emergency calls*
See what boats are near you and how close they might come to you*
Get the right weather forecasts for your exact location
* Requires a VHF radio with proper capabilities
✔ Latest Update: April 2023
✔ Lifetime access including all updates
✔ No scheduled times: go through the material when it's convenient for you
VHF Radios is a much more extensive version of a similar course that John teaches at Cruisers University at the Annapolis Boat Shows.
A VHF radio seems so simple to operate: turn it on, pick up the mic, press a button, and talk. 
But wait. What channel do you use to call another boat at a drawbridge? Is there really ever a reason to use low power? Do you say "Over" at the end of every sentence? How do you know if your radio is even working? How do you call a boat when you don't know its name? What should you try if the other person doesn't understand you?
And what about your radio's advanced features—things like automated distress calling, AIS for "seeing" boats around you, and WX channels for getting precise marine weather forecasts? Do you know how to use all those?
You will after this course.
VHF Radios' nine in-depth course modules contain 22 illustrative photos, seven audio clips, two videos, and three embedded charts to have you knowing all your radio's controls and features. You'll be confidently manning the radio in all kinds of situations.
Course Modules

VHF Basics: Radio types, hailing and working channels, dealing with congested airwaves, radio range, radio checks and squelch.
The Fundamentals of Radio Calls: How to avoid letting the wind ruin your transmission, how to speak to be understood, PTT, open mics, high and low power.
Making Radio Calls: This section includes step-by-step guides to teach you exactly how to: ◆ Hail a familiar boat ◆ Hail a boat you do not know (includes audio sample) ◆ Make a call and switch it to a working channel (includes audio sample) ◆ Hail locks and bridges (includes video) 
Channel Guide: A Quick Channel Guide as well as detailed channel listings explain what channels to use, what ones to avoid, and where you are allowed to make calls on your radio in different situations.
Radio Lingo: What terms and phrases you should use, what terms to avoid, how to properly spell over the radio (includes spelling alphabet chart).
Voice (Non-Automated) Emergency Calls: The exact difference between a mayday, pan-pan and sécurité, when to use them, and exactly what to say. How and when to offer radio relays.
Advanced Radio Features: Does your radio have DSC (Digital Selective Calling), AIS (Automatic Identification System), or Dual Watch features? If it does, learn how to make an emergency call with the touch of a button, how to identify boats around you and how close to you they will come to you, and learn how to listen to two channels at one time.
Cruiser's Nets: What is one, how they function, and why you may want to participate.
Weather Radio: Untap the power of your weather radio! Learn how to find which of eight weather radio stations applies to you and how to listen for the forecast for your exact location.
Private Facebook Group
You'll also get access to a private Facebook group where you can ask questions and share your successes.
You'll also get a subscription to The Boat Galley Newsletter, a weekly email filled with tips and tricks to make living on a boat and cruising both easier and more enjoyable. Don't like it? You can unsubscribe at any time.
And no, we aren't going to sell your email address or send you spam, because that's not who we are.
You'll get login details onscreen immediately after purchase as well as by email a few minutes later.

Take this course whenever you want, as fast or slow as you want, in whatever order you want, and refer back to materials as often as you want. You'll have lifetime access to all, including all updates.
Everything is online; there is no shipping.
John Herlig is an instructor at Cruisers University at the Annapolis Boat Shows. He also frequently writes for various boating and cruising magazines. 
John calls his 1967 Rawson 30 home when he's not helping deliver boats; he's sailed most of the East Coast of the US, Bahamas, and Caribbean.
View full details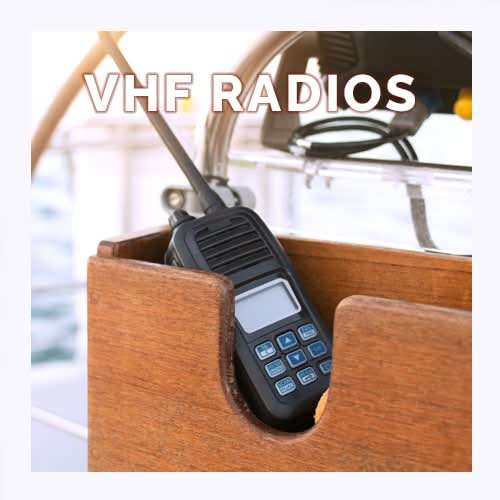 Very good. I have been through it once but will review many times as there is a lot of info. Wish you had a link to the NOAA weather map you show on the chapter on WX weather channels. I looked and cannot find the same or similar map.
Reply: We do have a link to that chart in the course and it's also on the downloadable VHF Reference at the end of the course. I'm sending you a link with it, too.
A very helpful summary, much of which experienced boaters will know, but there are always nuggets to learn and this is full of them. The downloadable template at the end is helpful and we've printed for our nav station . . .
Dual watch, DSC, mayday calls ... all de-mystified. I had to look in the user manual for my own VHF radio for which buttons to push, but this course taught me what the VHF can do for me, and how and why.