All our courses for one super-discounted price
Regular price
$119.00 USD
Regular price
$214.00 USD
Sale price
$119.00 USD
Unit price
per
Sale
SOLD OUT
Our Guarantee
At The Boat Galley, we have only one mission: to make boat life better.
Everyone on The Boat Galley team is a liveaboard cruiser and we understand the challenges that come with life on a boat. When our team encounters frustration, we come up with practical and innovative solutions.
Try our products and see. If they don't make your boat life better, use our 30-day FREE no-hassle return guarantee.
Eight Full-Length Courses
Click to see full description of each.
Small Budget Cruising (coming by October 1, 2023 and included)
All courses are primarily written with pictures where useful and a few audio clips; links and downloads are included when helpful. Each course has its own Facebook group to ask questions and exchange ideas.
✔ Lifetime access including all updates
✔ No scheduled times: go through the material when it's convenient for you
Plus:
You'll also get a subscription to The Boat Galley Newsletter, a weekly email filled with information about living on a boat. Don't like it? You can unsubscribe at any time.
And no, we aren't going to sell your email address or send you spam, because that's not who we are.
The All-Access Pass includes all of our online courses plus bonus materials. You'll get login details onscreen immediately after purchase as well as by email a few minutes later.

Take each course whenever you want, as fast or slow as you want, in whatever order you want, and refer back to materials as often as you want. You'll have lifetime access to all, including all updates.
Everything is online; there is no shipping.
Pam Douglas (The Perfect Boat Dog) is the undisputed authority on boat dogs. John Herlig (VHF Radios and Small Budget Cruising) and Carolyn Shearlock (all other items) are instructors at Cruisers University at the Annapolis Boat Shows. 
Pam lived aboard her Pacific Seacraft 34 with her dog Honey for 7 years and is part of the Go Pet Friendly team. She has written extensively about boat dogs for a variety of publications.
John calls his 1967 Rawson 30 home when he's not helping deliver boats; he's sailed most of the East Coast of the US, Bahamas, and Caribbean.

Carolyn and her husband Dave have lived aboard two different boats for a total of 15 years. They've cruised over 14,000 miles in the Sea of Cortez, Pacific Mexico and Central America, and more recently Florida and the Bahamas.
All but The Perfect Boat Dog are expanded versions of the courses John and Carolyn teach at Cruiser's University.

View full details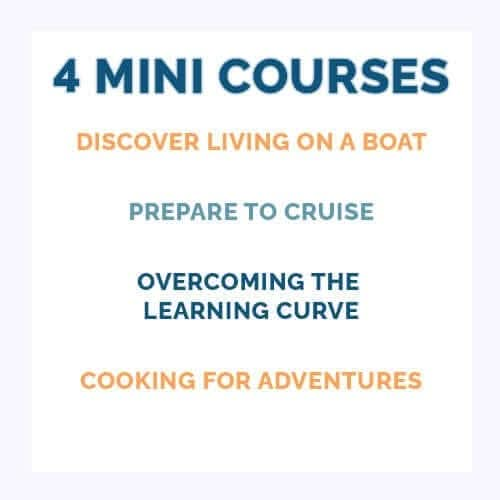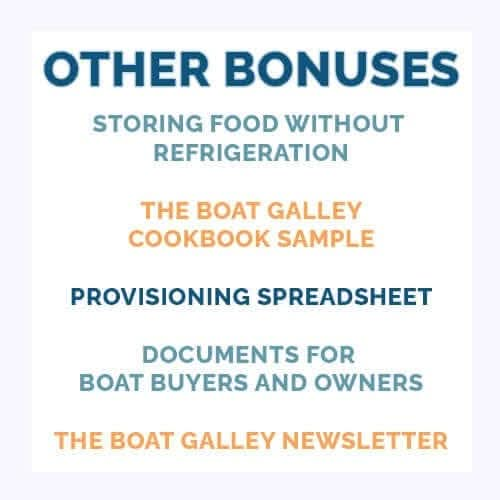 All-Access Pass
I have just started the modules, but so far the information given is clear and concise, and broken down into lessons that are easy to understand. As you progress you build upon your knowledge. Very happy with lessons.
Info overload? Nope!
At first I was a little overwhelmed by all the information….but that the beauty of it!! It a resource I can keep going back to!
Thank you 💙⛵️