🆓 FREE
Five editable documents and checklists to help you buy, enjoy, and maintain a boat
Regular price
Sale price
$0.00 USD
Unit price
per
Sale
SOLD OUT
✔ Download immediately upon check out
✔ All online, no shipping
✔ FREE - no payment required at check out
Our Guarantee
At The Boat Galley, we have only one mission: to make boat life better.
Everyone on The Boat Galley team is a liveaboard cruiser and we understand the challenges that come with life on a boat. When our team encounters frustration, we come up with practical and innovative solutions.
Try our products and see. If they don't make your boat life better, use our 30-day FREE no-hassle return guarantee.
What You Get
Two documents to help you when buying a boat:
Boat Buying: Comparison Sheet (editable)
New Boat Checklist -- make sure you've covered all the legalities and practicalities
Four useful ones for boat owners:
Boat Details Document (editable)
Before Moving Boat Checklist (editable)
Important Info for Your Emergency Contacts (editable)
Boat Safety Briefing for Guests
✔ Lifetime access including all updates
✔ No scheduled times: go through the material when it's convenient for you
You'll also get a subscription to The Boat Galley Newsletter, a weekly email filled with tips and tricks to make living on a boat and cruising both easier and more enjoyable. Don't like it? You can unsubscribe at any time.
And no, we aren't going to sell your email address or send you spam, because that's not who we are.
You'll get a download link onscreen immediately after purchase as well as by email a few minutes later. You can download your documents immediately.

Everything is online; there is no shipping.
View full details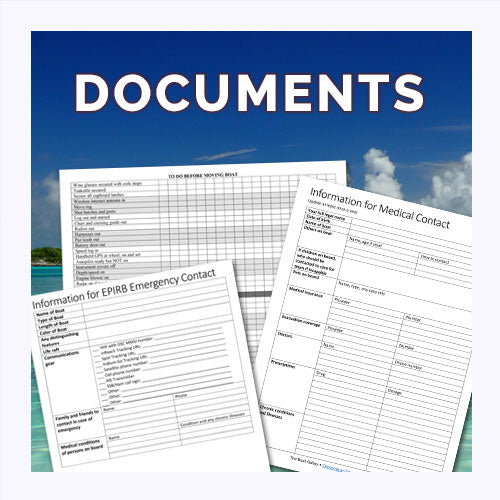 Documents for Boat Buyers and Owners
Great place to start
These are a great place to start. They definitely have a few points that I didn't know or had forgotten. I will take them and probably make them my own, but great as they are!
Very thorough list
I'm sure it took some time to accumulate all this detail into one document. I only wish more sellers had provided this to us when we were shopping.