Save time and make cruising to The Bahamas easy on yourself with these step-by-step how-to's, info, and in-depth checklists
Regular price
$39.00 USD
Sale price
$39.00 USD
Unit price
per
Sale
SOLD OUT
✔ Get access immediately upon check out
✔ All online, no shipping
Our Guarantee
At The Boat Galley, we have only one mission: to make boat life better.
Everyone on The Boat Galley team is a liveaboard cruiser and we understand the challenges that come with life on a boat. When our team encounters frustration, we come up with practical and innovative solutions.
Try our products and see. If they don't make your boat life better, use our 30-day FREE no-hassle return guarantee.
BUNDLE AND SAVE: This course is part of our All-Access Pass, where you get all 8 of our courses (plus some bonuses) for one low price.


Overview
31 sections of info you need for a smooth trip, in 6 categories:

Legalities
Crossing the Gulf Stream, Charts & Cruising Guides
Weather and Tides
Provisioning
Communications: Internet, Calling & Texting
In Case of Emergency
✔ Latest Update: April 2023
✔ Lifetime access including all updates
✔ No scheduled times: go through the material when it's convenient for you
The goal of this course is to simplify the preparation for the trip and let you know what to expect. There are step-by-step instructions and recommendations for everything you'll need. 
The material is primarily written, with links to forms, websites, and recommended products. There are detailed directions and screenshots for completing various forms. And there are a few downloadable checklists for you as well.
Crossing the Gulf Stream, Charts & Cruising Guides

Crossing the Gulf Stream
Charts
Cruising Guides
Weather and Tides

Getting Weather Info
Bahamas Tides
Provisioning

Provisioning in General
Calculating Amounts to Buy
Have a Tiny Refrigerator?
Prescription Medicines
Fuel, Water, Propane
Communications: Internet, Calling & Texting

Bahamas Internet
VPNs (Virtual Private Networks)
Phone Calls When In the Bahamas
Communications Apps
inReach Satellite Communications
In Case of Emergency

Overview
Float Plan
Your Emergency Contacts
Your Ditch Bag
Medical Assistance/Evacuation
Private Facebook Group
You'll get access to a private Facebook group where you can ask questions of Carolyn and other course participants, and where you can share your successes.
You'll also get a subscription to The Boat Galley Newsletter, a weekly email filled with information about living on a boat. Don't like it? You can unsubscribe at any time.
And no, we aren't going to sell your email address or send you spam, because that's not who we are.
You'll get login details onscreen immediately after purchase as well as by email a few minutes later.

Take this course whenever you want, as fast or slow as you want, in whatever order you want, and refer back to materials as often as you want. You'll have lifetime access to all, including all updates.
Everything is online; there is no shipping.
Carolyn Shearlock is the founder of The Boat Galley and an instructor at Cruisers University at the Annapolis Boat Shows. In addition to her articles and podcasts for The Boat Galley, she frequently writes for various boating and cruising magazines. 
Carolyn and her husband Dave have lived aboard two different boats for a total of 15 years. They've cruised over 14,000 miles in the Sea of Cortez, Pacific Mexico, and Central America, and more recently Florida and the Bahamas.
View full details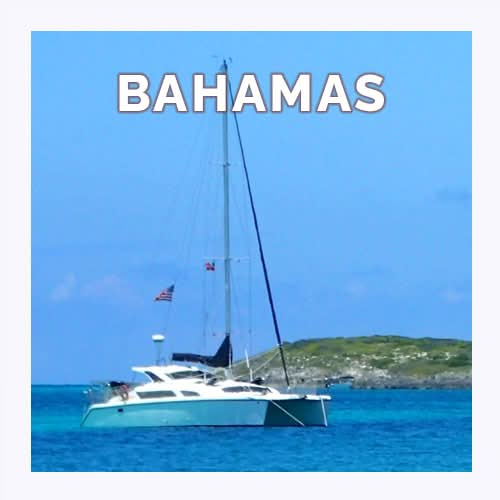 bahamas quick reference
Looks great, such important info that's usually only gotten by word of mouth, now easily available. We are looking forward to using this in November! Very happy with this guide.
Tremendous value - highly recommend!
I just purchased your "Get Ready to Cruise the Bahamas" course…. WOW! Thank you for creating the course. It is the most comprehensive guide I have read (and I have been studying this subject for months).
Everything you need to know before cruising to the Bahamas!
The information is everything you need to know and it's explained thoroughly and simply. We have not been to the Bahamas yet but hope to be leaving by next month. I've been super stressed about all of the things we need to accomplish. But doing this online course helped me to know what we have to do and how to do it. Feeling more confident about our journey now!