Quick-fix troubleshooting and simple repair guide with straightforward how-to's for people new to outboards
Regular price
$11.95 USD
Sale price
$12.91 USD
Unit price
per
Sale
SOLD OUT
✔ Qualifies for $3 shipping
✔ Shipped same day if ordered before 2 PM EST M-F
Our Guarantee
At The Boat Galley, we have only one mission: to make boat life better.
Everyone on The Boat Galley team is a liveaboard cruiser and we understand the challenges that come with life on a boat. When our team encounters frustration, we come up with practical and innovative solutions.
Try our products and see. If they don't make your boat life better, use our 30-day FREE no-hassle return guarantee.
Features
Designed for people with no to little experience with outboard motors
Quick troubleshooting guide with straightforward how-to's
Covers 80-90% of the reasons that outboards do not start

Most solutions do not require tools; only one requires taking the engine cover off
Includes a glossary of basic terms
Intended to be kept in the dinghy or other boat so it's readily available any time there is a problem
NOT a shop manual or advanced troubleshooting guide
When your outboard motor won't start grab this easy-to-use chart, look up your motor's symptom, and trace the listed possible solutions
Then turn to detailed descriptions of what to check, how to check if it is the problem, and how to fix it, often without any tools needed
Includes temporary fixes to get you home or to a safe place, where more elaborate repairs can be undertaken
Designed for Use in the Boat
Organized by topics with bright printed headings, making it easy to quickly find the information you need.
Special matte paper, reducing glare when used in the sun.
Pamphlet is waterproof, fuel-proof, and won't be damaged by sunscreen or petroleum products; designed to be kept onboard the boat in harsh conditions so it is there when you need it,
Folds up like a map so it can be easily tucked away and can be opened to any section; also very tough and tear-resistant.
No tiny print.
May be easily wiped clean if dirty.
Designed in the USA; printed in the USA on American-made recyclable synthetic paper using environmentally-friendly soy-based inks at a facility that is completely wind-powered. Minimal packaging.
View full details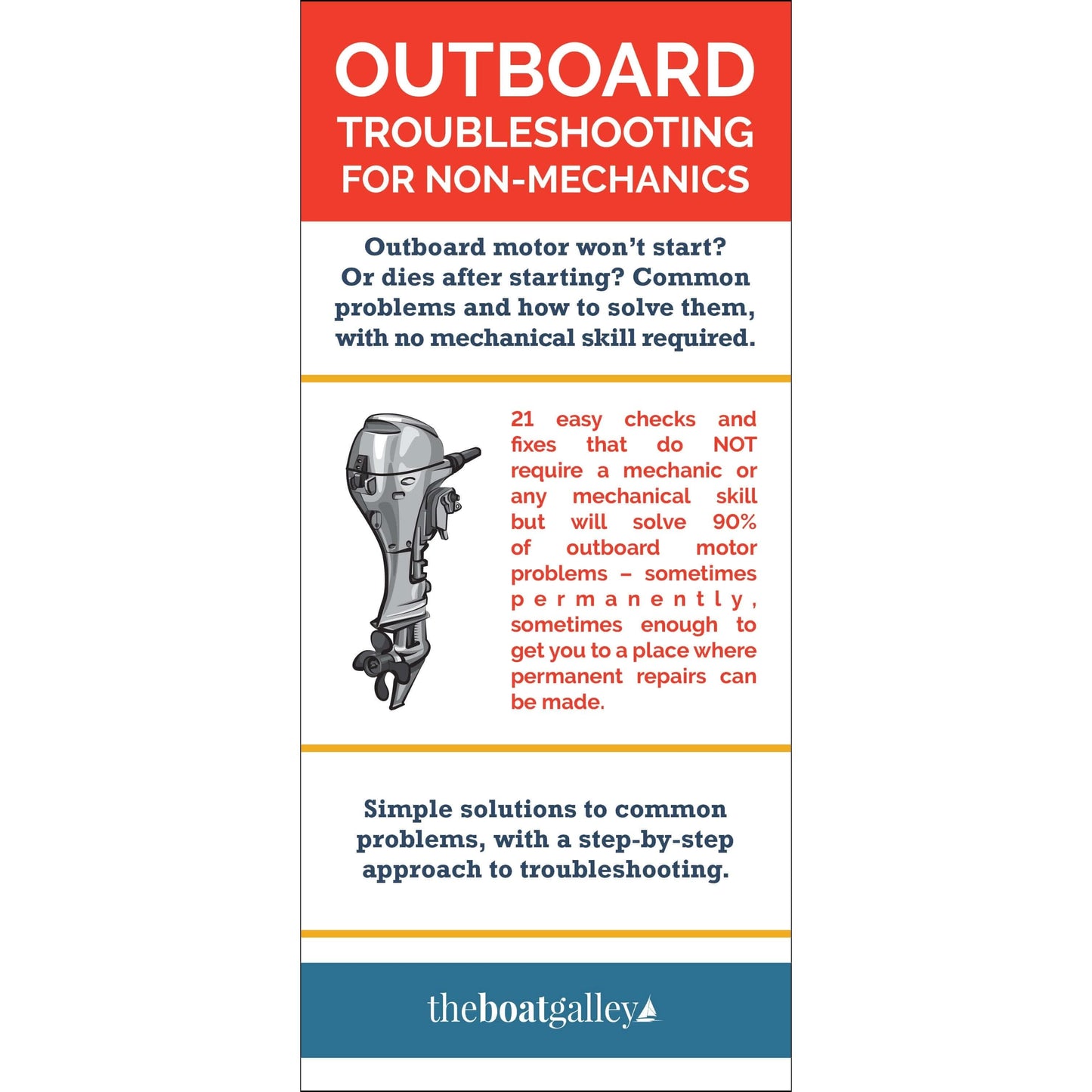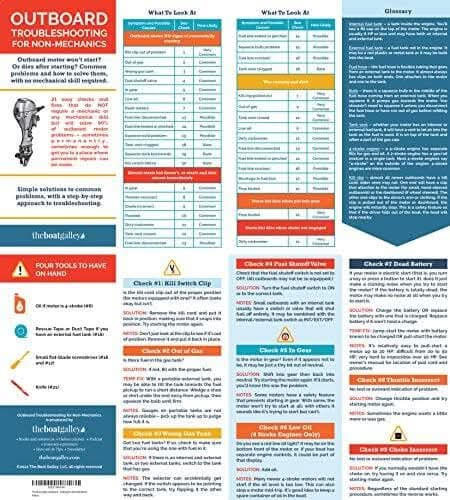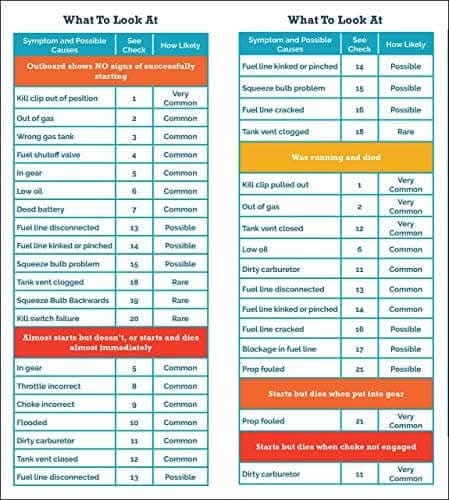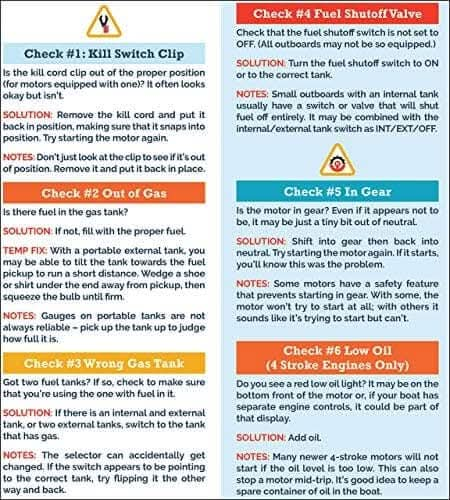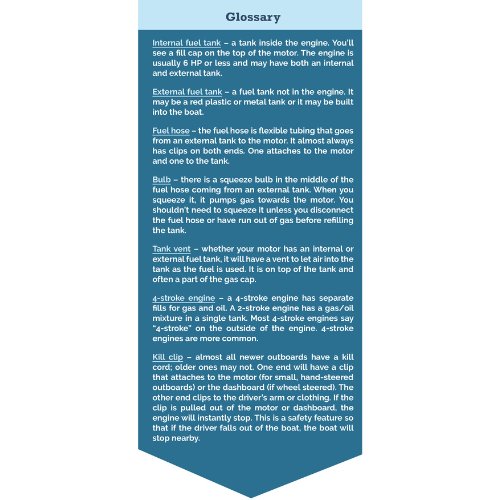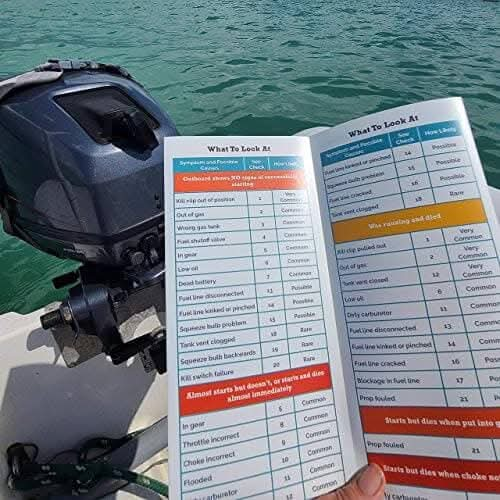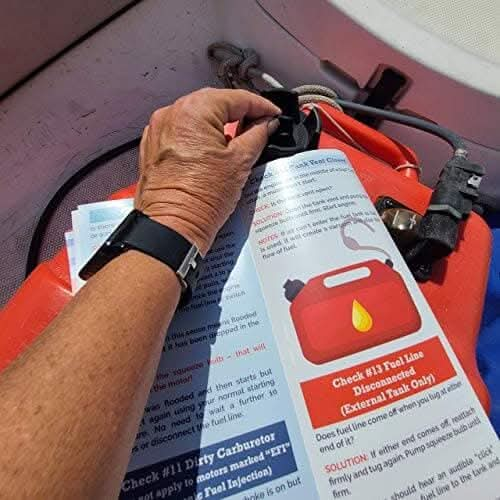 Outboard troubleshooting
Just what I was looking for and picked up some extra tools, oil, etc. to have in case….👍
Like most things related to the Boat Galley it's far and away the best review of an outboard.
I now have a good reference guide to help solve Outboard motor malfunction to help trouble I can for see happening.