One durable, easy-to-use guide to keep at your VHF radio. Contains everything you need to make a proper radio or distress call.
Regular price
Sale price
$12.96 USD
Unit price
per
Sale
SOLD OUT
✔ Qualifies for $3 shipping
✔ Shipped same day if ordered before 2 PM EST M-F
Our Guarantee
At The Boat Galley, we have only one mission: to make boat life better.
Everyone on The Boat Galley team is a liveaboard cruiser and we understand the challenges that come with life on a boat. When our team encounters frustration, we come up with practical and innovative solutions.
Try our products and see. If they don't make your boat life better, use our 30-day FREE no-hassle return guarantee.
Benefits
Includes Spelling Alphabet, Channel Usage, Emergency Calls, Safety Calls, Hi/Low Power Choice, Best Practices for Clear Communication, Radio Checks, Weather Radio, and Squelch
Easy to use at the radio: Find answers to most-often-asked questions without needing to open the guide; bright colors make it easy to locate; type sized for effortless reading
Convenient Size: Small enough to hold in one hand while holding the mic in the other; large enough to easily find and read; folds flat for easy storage near the radio
Quickly find needed info: Bright and clear headings make it a snap to find the desired section while on the radio
Long-lasting: Ultra-tough waterproof material resists tearing and crumpling; no-glare coating resists discoloration from sunscreen, petroleum products and other chemicals; may be wiped clean when dirty
🎁Great gift for boaters.
Your VHF radio is one of the most versatile pieces of equipment on your boat. But it can be hard to remember everything you need to know for effective and clear communication.
The Boat Galley Handy VHF Radio Reference is designed to be kept at the radio and referred to when making radio calls.
The sections of the radio guide quickly answer all your questions:
How do I get help in an emergency?
What channel should I use?
How do I phonetically spell a word?
How do I check if my radio is working correctly?
How do I tell other boaters about a danger to navigation?
When should I use high or low power?
What weather radio channel covers my area?
What's squelch and how do I use it?
In an emergency, the information in the Handy VHF Radio Reference will allow even an inexperienced radio user to operate the VHF.
Designed for Use at the Radio
Special matte paper, reducing glare when used in the sun.
Ultra-durable, waterproof paper resists tearing, crumpling, and discoloration from sunscreen, petroleum products and other chemicals. 
Folds in thirds, making it easy to tuck next to the radio.
No tiny print.
May be easily wiped clean if dirty.
Designed in the USA; printed in the USA on American-made recyclable synthetic paper using environmentally-friendly soy-based inks at a facility that is completely wind-powered. Minimal packaging.

View full details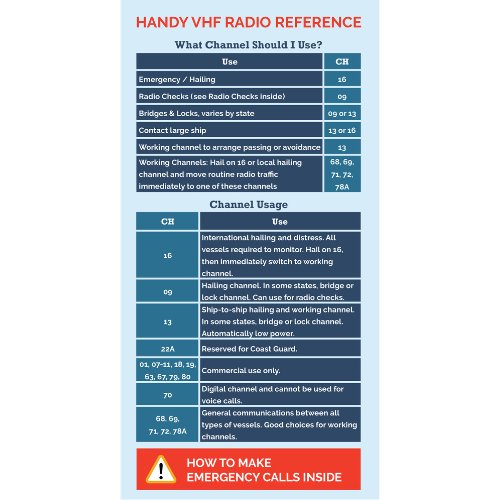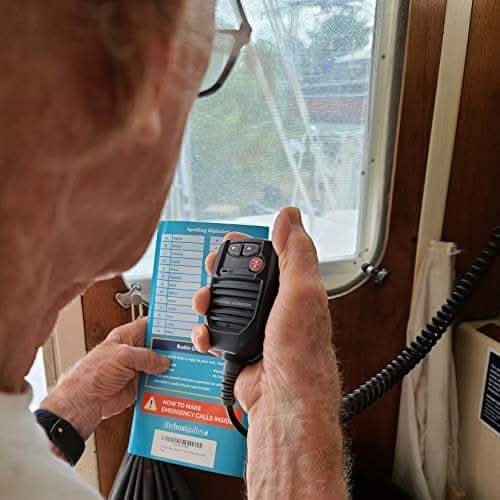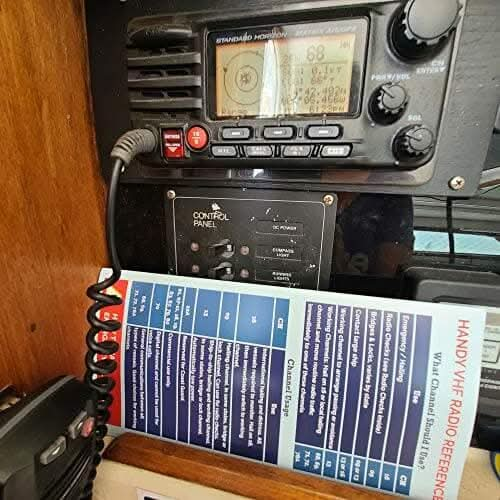 Very handy!
I was about to create my own vhf reference guide to put on my boat and have it laminated, so this saved me a bunch of time and is more thorough
On board
Was greatful and really overwhelmed to FINALLY get a short cut version to all the 411 of the boating "LINGO" without having to take a month long course (out of town for me personally) and just have it handy if an emergency ever arises out on the water.
Saw it, read it, immediately bought it for the safety of everyone involved in boating out on the water.
Handy VHF Reference
Love it... Bought it as a reference for someone to use in an emergency situation should the Captain not be able to make an emergency call... Works prefect and I was please with the quality...