Dry Tortugas to Mobile, AL
Make Florida Gulf Coast cruising EASY with fast answers to all your "where" questions
Regular price
Sale price
$27.93 USD
Unit price
per
Sale
SOLD OUT
✔ Spiral bound qualifies for $3 shipping
✔ Spiral bound shipped same day if ordered before 2 PM EST M-F
✔ PDF: download immediately upon check out - no shipping address needed
Our Guarantee
At The Boat Galley, we have only one mission: to make boat life better.
Everyone on The Boat Galley team is a liveaboard cruiser and we understand the challenges that come with life on a boat. When our team encounters frustration, we come up with practical and innovative solutions.
Try our products and see. If they don't make your boat life better, use our 30-day FREE no-hassle return guarantee.
Make cruising the Florida Gulf Coast easy -- know exactly where to find everything you need.
A traditional cruising guide isn't designed for quick answers!

Instead of reading through pages of text, use our revolutionary new Quick Reference to easily find WHERE . . . 
Is the nearest anchorage with N (E, S, or W) protection

To get fuel, water, or a haul out

There's a grocery store . . . propane . . . an ATM

And more!
Separate area-by-area tables for the Florida Gulf Coast let you quickly find just what you need:
anchorages including wind/wave protection directions, depth, current, swell, and availability of places to walk dogs

marinas, with phone numbers and available services

fuel, propane, water, grocery stores, laundry, showers, and pump outs

cuts and navigation alerts

haulout facilities including maximum beam
An invaluable supplement to traditional cruising guides
ANCHORAGES -- Easily locate a suitable anchorage by scanning down the column for the forecast wind direction. You can also check the depth, holding, current, swell, and access for dog walking. Anchorage names are those used by Active Captain and thus can be easily found with the AC overlays on Garmin, Navionics, and Aqua Map.
SERVICES -- Quickly find the closest location for the types of stores and services you need.
BRIDGES -- Easily find the height, opening schedule, how to contact, and any special notes with similar tables, all arranged in order.
Print Features for Ease of Use
Bright, easy-to-read subject tabs, organized first by topic and then by island group, island, town, or anchorage so you can quickly find the information you need.
Special matte paper reduces glare when used in the sun.
Ultra-durable, waterproof paper resists tearing, crumpling, and discoloration from sunscreen, petroleum products, and other chemicals. Designed to be kept in the cockpit, even with rain or splashes.
Lays flat for easy reference.
Large enough that info can easily be read yet small enough to be conveniently stored. No tiny print!
May be easily wiped clean if dirty.
Designed in the USA. Printed in the USA on American-made recyclable synthetic paper using environmentally-friendly soy-based inks at a facility that is completely wind-powered. Minimal packaging.
68 pages.
PDF Features for Ease of Use
No need for a mailing address -- download immediately upon payment.
May download on more than one device used on a single boat (that is, can have on two tablets, or tablet and phone, IF used on the same boat). May not "give" copies to people on other boats.
Clickable links for all phone numbers and marina/boatyard websites.
The index makes it easy to jump from one section to another. Click on the "Bookmark" symbol on a phone or tablet. Then click on the section desired.
On a laptop or desktop, click on the "Bookmarks" symbol and a similar clickable index will appear:
The tabs on each page are also clickable to jump to another section.
Available to download immediately from your purchase confirmation. Read on any electronic device with Adobe Acrobat Reader.
Designed in the US.
View full details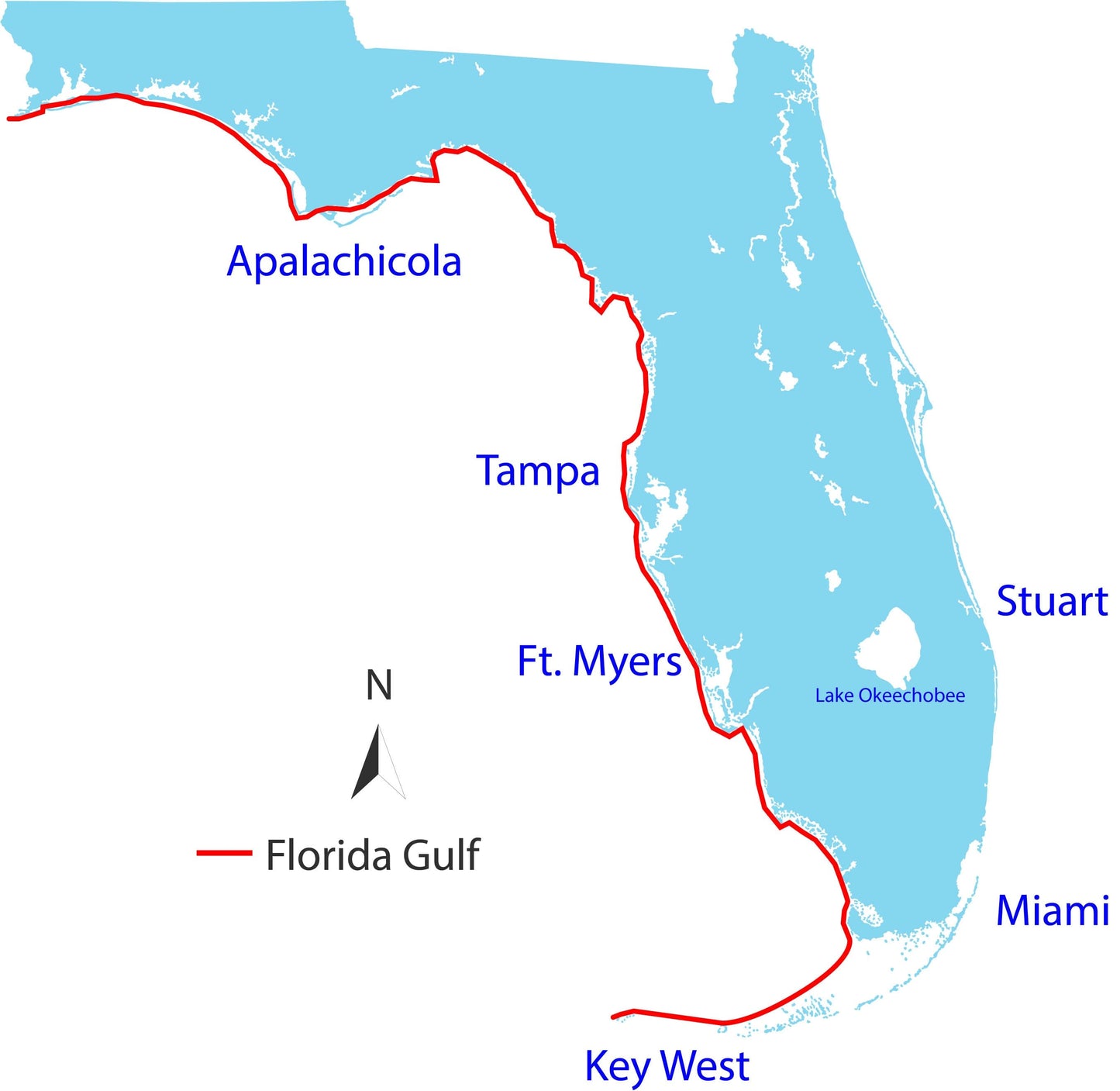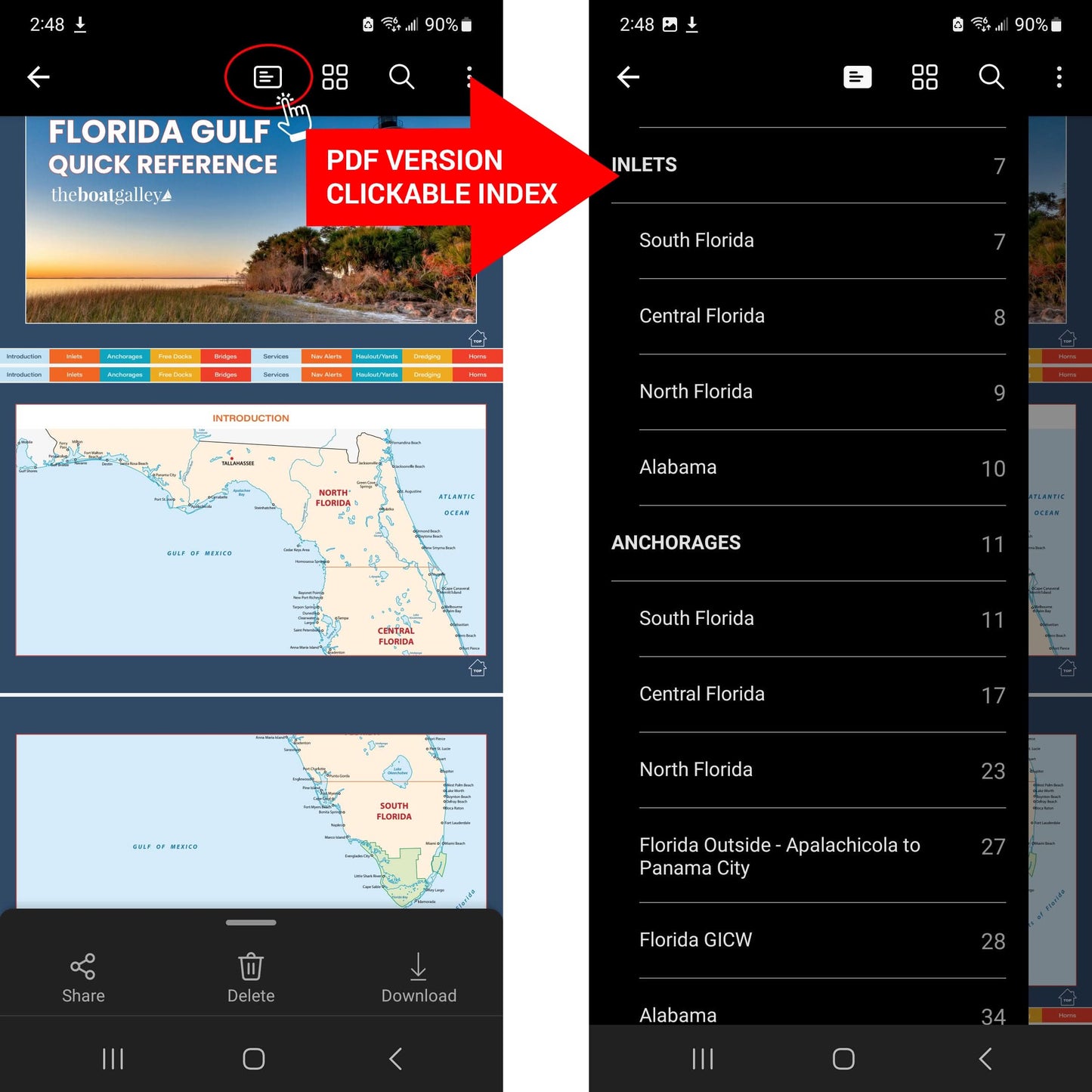 Florida Loop Quick reference Guide
Love the easily accessible guide, particularly the rating for dog walking.
Nothing like I thought it would be! Maybe I misunderstood what I was getting. I would never suggest this unless maybe to get the hard copy version. Need large computer screen to read the online version. My mistake for ordering.
I contacted the customer and offered him a full credit towards the print versions of the two guides he'd purchased, or a refund. He chose a refund, which was processed immediately.
Just received this guide and have looked over it briefly. Seems to be very thorough. They will make their way onto the boat this weekend