800+ boat-friendly recipes made from readily-obtainable ingredients, using hand utensils. In-depth instructions for unfamiliar cooking techniques
Regular price
$48.00 USD
Sale price
$42.00 USD
Unit price
per
Sale
SOLD OUT
✔ FREE shipping if total order over $60
✔ Shipped same day if ordered before 2 PM EST M-F
Our Guarantee
At The Boat Galley, we have only one mission: to make boat life better.
Everyone on The Boat Galley team is a liveaboard cruiser and we understand the challenges that come with life on a boat. When our team encounters frustration, we come up with practical and innovative solutions.
Try our products and see. If they don't make your boat life better, use our 30-day FREE no-hassle return guarantee.
Features
Peek inside a 28-page sample of the cookbook (the full table of contents can be seen at the end)
Recipes are all boat-friendly: designed to be made with limited water and electrical appliances and frequent options for making with non-refrigerated ingredients.
Step-by-step directions to give even "non-cooks" the confidence they can turn out tasty meals without prepared foods.
Detailed instructions on unfamiliar things like making yogurt and bread, grilling virtually every food imaginable, preparing and cooking freshly-caught fish and seafood, cutting up and boning meat, cooking in a Thermos, and baking on the stovetop, as well as lots of tips on how to do things more easily in a tiny, moving kitchen.
Over 150 substitutions and dozens of  "make it yourself" options.
Quick Reference Lists provide idea starters: suggestions of included recipes for such categories as Mexican, Asian, and Potluck.
Easy-to-navigate format including side tabs to the Table of Contents and extensive cross-reference lists at the end of each chapter.
🎁Great gift for boaters.
No matter what anyone tells you, boat cooking IS different from cooking ashore. The space is smaller, there's no grocery store 5 minutes away, you have fewer prepared foods and electric appliances, and food storage is much different.
Meet Carolyn and Jan, the authors, and learn why they felt this cookbook was necessary:
Designed and printed in the USA. Minimal packaging.
View full details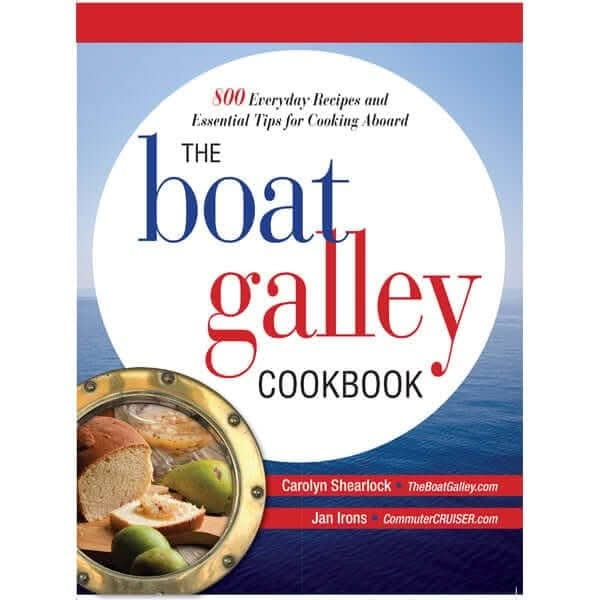 Christmas gift
Just opened. Looks like a great purchase!
This book makes provisioning so easy and gives awesome ideas. I have not taken the cooking chore on while living on land but now living on boat, I took on that role. This book is very easy to follow and makes cooking enjoyable. It is good for boat life as well as RV life
The recipes are not the main attraction, at least for me. The first few chapters of information are gold, and something that every cruiser or RVer should read before setting out.
It would be great to have an updated version of this book, as it is starting to feel dated -- for instance, everything about pressure cooking assumes you're using a stovetop version rather than an Instant Pot or similar electronic model.
The recipe section could also use modernization. So. Much. Meat. At the time this was written there was far less awareness about plant-based diets, and raw meat in a tiny RV or boat galley where you do not have quick access to trash disposal.... just no.
Even so, this book is still excellent and essential for full-time or part-time nomads.